"La Dolce Vita"


Italy On Your Own
$2399.00 ~ Per Person
2 nights Venice - Ai Morid'Oriente Hotel
3 nights Florence - Ambasciatori Hotel
4 nights Rome - Il Cantico Hotel
Trains Between Cities
Roundtrip Airfare
Airport/Hotel transfers.
Daily Breakfast
Tax $199

*Price is Per Person
This Price may NOT be available for your dates of travel
Blackout dates apply
Hurry! Packages at this price are limited
There are a few spots in the world which are beautiful the way they are as it is said that the real beauty lies in imperfection. These three cities are remarkable traveling destinations which will dazzle you with the awe inspiring sites from history along with the opportunity to wander on the majestic streets where you can simply try some Italian delicacies and get connected to the hospitable people. Bust out A "Grazie" - but, soften the z to an s sound when you say grazie!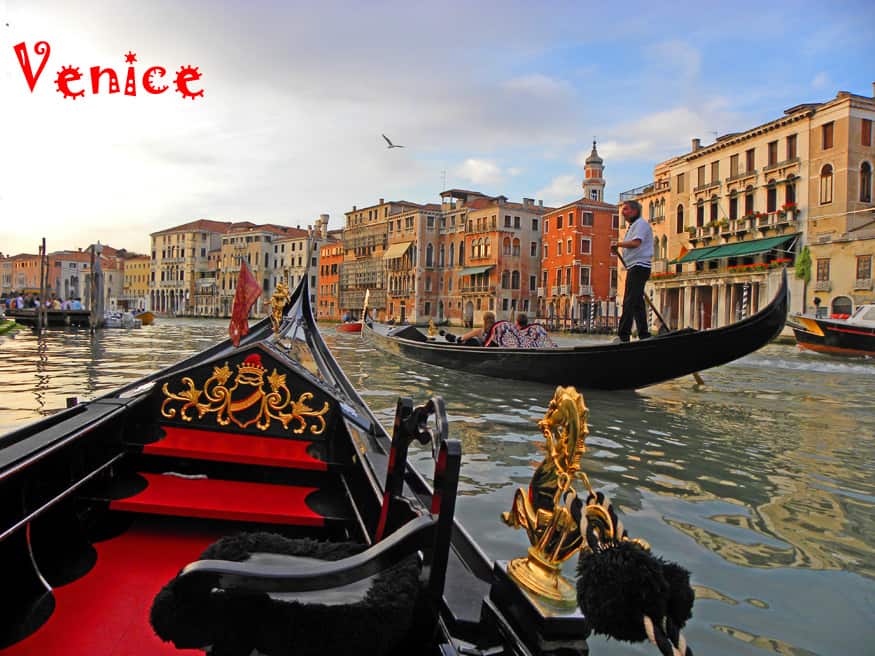 Venice is so full of art, history and magic that you can find something interesting to see in almost every corner. Escape the hustle and bustle of city life and discover a place like nowhere else on this planet. With its tranquil canals, crooked buildings, and lively festivals this floating city is a beautiful world heritage site and a must visit location.
Above all, Don't panic if you get lost; If you don't get lost, you're not doing it right! Even visitors with GPS,and like senses of direction will likely be bested by the meandering streets of the city. There's no better way to explore the lovely maze of Venice than in a haze of mild confusion. The downside of getting lost, of course, is that it takes longer than you'd expect to get anywhere. So, locals advise, give yourself extra time to get around.

Ariel View Of Venice
The city is built on an archipelago of 118 islands and 177 canals in a shallow lagoon. About 400 bridges connect the islands where the city is built. Even though it is already urban, Venice is a car-free place. The interwoven islands are connected by an intricate canal system allowing you to be navigated around the city in style. Sit back and relax upon a Gondola and adore a scenic punt around this picturesque city to wherever your heart desires. Board a Vaporetto (Italian ferry) as you glide down the central canal while being given a tour of the utopia Venice has become. among the 'must sees' - St. Mark's Square, the Rialto Bridge, and Palazzo Ducale!
Wondering what you can do after sunset in Venice' Compared to most major cities Venice is a relatively quiet town in the early evenings - the preferred activity is simply to take an evening stroll through the city streets. Locals and visitors sit in piazzas sipping coffee or a glass of wine as the sun sets in the horizon.
On to Florence - Nestling in Tuscany in northern Italy, and surrounded by rolling green hills and deep river valleys, Florence is ideal setting for walks and rambles in the warm Mediterranean climate. Experience the best of Tuscany in fantastic Florence. The city's rich Renaissance history is a sight to behold - with its grand chapels and churches, its awe-inspiring galleries and museums, and world-famous architecture. Explore the busy food markets by day, dine at the local trattorias by night, and visit some of the city's famous 'enotecas' (wine bars) - Le Volpi e l'Uva among its most famous.
the Piazza Della Signoria, an open courtyard that includes a copy of Michelangelo's David. The original sits nearby in the Academia di Belle Arti di Firenze. Delve deeper into this city's 1000 years of glorious history by heading to one of Florence's museums, which display masterpieces from Italian greats including da Vinci and Botticelli. If you possess an artistic flair head to the Uffizi; one of the oldest art museums in Europe, it has an incredible collection of artworks dating back to the 16th Century that you can't see anywhere else.
If you have a sweet tooth, head to Gelateria La Carraia, looking over Ponte alla Carraia, it's a favourite of the locals. All'Antico Vinaio is great for lunch or breakfast if you're on a budget city break, with lots of fresh local produce at affordable prices. Buy pizza by the slice throughout the city. I recommend asking a local for their favorite spots.

The Colosseum
Last stop - Rome. History is around every corner of Rome. From the Pantheon and the piazzas to Vatican City's Sistine Chapel, the 'Eternal City' is one of the world's most historically significant destinations. In Italy's capital, you'll discover cultural remnants of the Roman Empire, awe-inspiring Renaissance art, numerous historic landmarks as well as the culinary delights of "La Dolce Vita" - The Sweet Life. You'll have plenty of time for the "must sees of Rome"!
Rome offers countless things to see and do, buy or eat. Some of the world's most influential art is here – both inside museums and outside in the public squares and parks. Walk among ancient ruins of the Roman Empire or drop a coin in the Trevi Fountain. Buy Italian leather goods in the market and order fresh gnocchi at dinner.

Trevi Fountain
Book a guided tour around the Colosseum, built between 70-80 AD, to take in the stunning architecture, view its underground chambers and get a feel for what it might have been like to enter the arena as a competing gladiator. Next door you'll find the Roman Forum, an incredibly important archeological site filled with the ruins of the city's ancient government buildings.
And Don't miss a visit to the Vatican to explore St Peter's Basilica, the largest church in the world. The wonderfully ornate building took 150 years to construct and contains numerous exceptional works of art, along with ornate marble carvings. The nearby Sistine Chapel with its stunning ceiling by Michelangelo is also a must-see.
---