Nibbling On Sponge Cake
Watching The Sun Bake...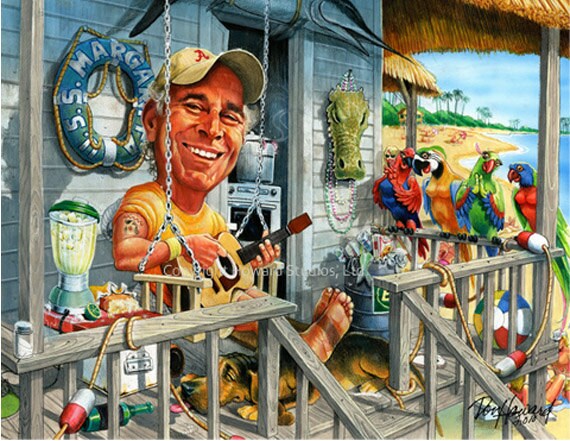 Limited Edition Caricature Art From Don Howard Studio
All of those tourists covered with oil. Strummin' my six string on my front porch swing. Smell those shrimp, They're beginnin' to boil. Wasted away again in Margaritaville, Searchin' for my lost shaker of salt. Some people claim that there's a woman to blame, But I know it's nobody's fault.
Oh yeah! Jimmy Buffet is the man!! - And you can enjoy his songs 24-7 with this fabulous package to the Florida - Margaritaville. Nestled between Miami and Ft. Lauderdale, Hollywood, Florida is known for its beautiful stretch of beach, perfect for a beach vacation. You can find unique shopping, beachfront restaurants and bars along Hollywood's Broadwalk, in addition to year long activities and live music. Down Hollywood Boulevard you will find historic Downtown Hollywood. The growing arts and culture hub includes grand murals, art installments, galleries and the unique ArtsPark at Young Circle, which hosts weekly activities for families, foodies, art enthusiasts, locals and visitors alike. Looking for delicious food and nightlife? Downtown Hollywood has various options for any budget and taste. Convenient trolley service is available to take you to and from Hollywood Beach to Downtown Hollywood to make it easy for you to get out experience everything the city has to offer.
Hollywood, Florida taxes $99
$1149.00 ~ Each, Just the Two of You
Margaritaville Hotel Hollywood, Florida
4 Nights
Roundtrip Airfare
Rental Car - Unlimited Mileage
5 Star - NOT All-Inclusive
Tax $99.00*
*Price is Per Person
This Price may NOT be available for your dates of travel
And this price will NOT be available for Holiday Travel
Blackout dates apply - (Packages at this price are limited)

Click this link or the pic for more details on this resort
Just opened this summer the hotel is inspired by the lyrics and lifestyle of singer, songwriter and author Jimmy Buffett, Margaritaville Hollywood Beach Resort, is a destination resort and entertainment complex on the legendary Hollywood Beach Broadwalk. Hollywood Beach is a classic Florida beach town that's enchanted visitors since the 1920's. Often compared to quaint European and funky California beach towns, the character of this inviting area is all Florida. Evening strollers, morning joggers, bicyclists and roller-bladers share the brick paved, beachfront thoroughfare with those enjoying the many cafes and bars along the way.

Click this link or the pics for a virtual tour of Margaritaville Hollywood
With an extensive array of amenities and a high level of hospitality, service and attention to detail, the 349-room 17-story destination resort is the perfect setting for guests to escape the everyday and just chill. Margaritaville Hollywood Beach Resort brings an entirely different resort perspective to South Florida with its unique, authentic, "no worries," tropical vibe and the feeling of escape that is experienced immediately upon arrival.
What's your paradise? It could be as simple as a day relaxing under a beach umbrella or hanging out at the Lone Palm Beach Bar followed by a great steak and a bottle of wine for dinner at JWB Prime Steak and Seafood. Or maybe you prefer active adventure with body surfing, paddle boarding and surfing on the FlowRider®. For some, paradise is a lavish menu of indulgent spa treatments to nourish the body and soul and escape the everyday. With eight casual and upscale dining and entertainment venues including Jimmy Buffett's Margaritaville, LandShark Bar & Grill and the 5 o' Clock Somewhere Bar & Grill – there is a place at Margaritaville Hollywood Beach Resort where you can raise a glass and take a bite out of paradise. Whatever escape you envision, it's ready to take you there!
Catch some rays at the beach or spend the day relaxing at Margaritaville Hollywood Beach Resort's full-service spa. Then enjoy a meal at one of the hotel's 7 restaurants!
The Amenities of Margaritaville Hollywood:
Pool Paradise
The family-friendly beach level recreation and entertainment scene is a lushly landscaped, island-inspired paradise with two unique pools, waterslide, FlowRider® Double and a variety of lounging options including full-service cabanas and chaise lounges with umbrellas. Outdoor oceanfront dining and refreshing beverages are never more than a few steps away so you can swim and sun and enjoy a barefoot lunch or a frosty margarita.
Rooftop Pool and Bar
In addition to the two beach level pools, the 11th-floor rooftop pool and License to Chill Bar is a mini destination within the hotel with a seagull's view of the Atlantic Ocean. This area is a relaxing oasis where you can work on your suntan, chill out with a frozen concoction or sneak in a nap under an umbrella.
FlowRider®
Beachside recreation includes a FlowRider® Double, one of the most sought after surfing simulator experiences in the world. Get your adrenaline going while you work on your surfing skills and enjoy the sun.
Watersports
Across the street, the 5 O'clock Somewhere Bar & Grill is where you can pick-up a paddle board and coast along the Intracoastal Waterway. It's a great way to become immersed in the natural environment. Don't miss snorkeling along the seashore, it's a great way to explore South Florida's marine life.
Spa and Fitness Center
Check in and chill out with a signature massage treatment or get in a work out to justify another margarita. St. Somewhere Spa invites guests to come in, unwind and be rejuvenated.
The Broadwalk
Bordering the resort's oceanfront recreation area and the beach is The Hollywood Beach Broadwalk, named one of America's Best Beach Boardwalks by Travel + Leisure magazine. The walking and cycling-friendly paved thoroughfare is an ideal venue for rollerblading, running and biking. Numerous restaurants and bars and an eclectic collection of fabulous Florida architecture from several decades make this a great place for an evening stroll or a morning run. The family-friendly Broadwalk features beach cruisers for rent so you can tour this seaside retreat.
---